$1 Million Donation Made to Northumberland Hills Hospital Foundation funds new fluoroscopy unit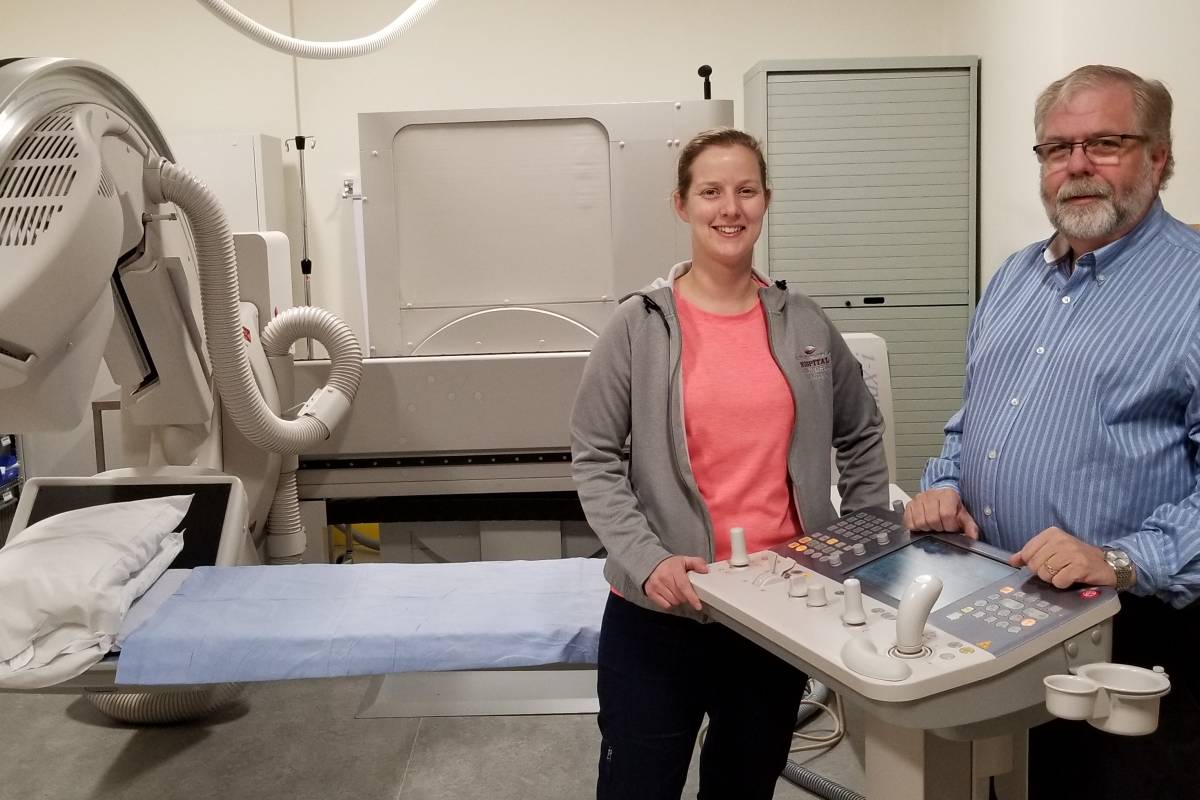 NORTHUMBERLAND COUNTY- After two years of planning, the new Canon Ultimax-1 fluoroscopy unit and accompanying TIMS Medical digital recording system has arrived and is already in use serving patients at Northumberland Hills Hospital (NHH). This $1 million project was fully funded by the generosity of an anonymous bequest to the NHH Foundation.
Arriving in many different pieces, the unit was assembled on site over the course of several weeks. Visitors to the Hospital's 15th Anniversary Open House held October 18th were some of the first to be treated to a "behind the scenes" look at this impressive new addition, which produces helpful and painless images to support the diagnosis or treatment of an illness.
NHH's Diagnostic Imaging Department continues to stand out as one of Canada's most technologically advanced for a community hospital of this size. Ongoing financial support to the NHH Foundation from the community has made this all possible. In 2008 a Magnetic Resonance Imaging (MRI) suite was established, and the hospital's Computed Tomography (CT) scanner was replaced for the first time--two projects which, alone, cost $4.2 million and were funded by community support.
The fluoroscopy unit and TIMS Medical system is the department's newest addition. "This new system makes it possible to perform multidirectional x-ray imaging and plays a critical role for the pain management of our patients with spinal and joint discomfort," says Ian Moffat, NHH's Director of Diagnostic Imaging and Laboratory Services. "Fluoroscopy allows for an area of the body to be filmed, and studied, in motion, rather than as a still, snapshot image. Think of it as a video, versus a photograph, and you can begin to get a sense of how powerful it can be from a diagnostic perspective!"
"Along with pain management, the new fluoroscopy unit and TIMS system has greatly improved our accuracy for swallow assessments. The TIMS unit is a digital recording device that captures images that helps to assess the patient's swallowing mechanism. This leads to better therapy to get our patients from the feeding tube to the dinner table faster," says Katie Beitle, Speech Language Pathologist at Northumberland Hills Hospital. "With this donation, we'll see a significant improvement in the quality of life for patients in our community."
Bequests in personal Wills provide much needed financial support to help the NHH Foundation's relentless pursuit of investing in new medical equipment and technology.
"The new fluoroscopy unit is an excellent example of how one person's generosity has made a lasting impression on the care patients will receive for decades to come," says Adrienne Burns, Leadership Gifts Officer, NHH Foundation. "We are extremely grateful to this donor for thinking of NHH and are excited to see their legacy come to life to serve patients of west Northumberland."
If you are interested in learning more about leaving a bequest in your Will, please visit HERE or call Rhonda Cunningham directly at 905-377-7767.
---
View all