Cobourg Professional Firefighter Association Donates to NHH Foundation Online Auction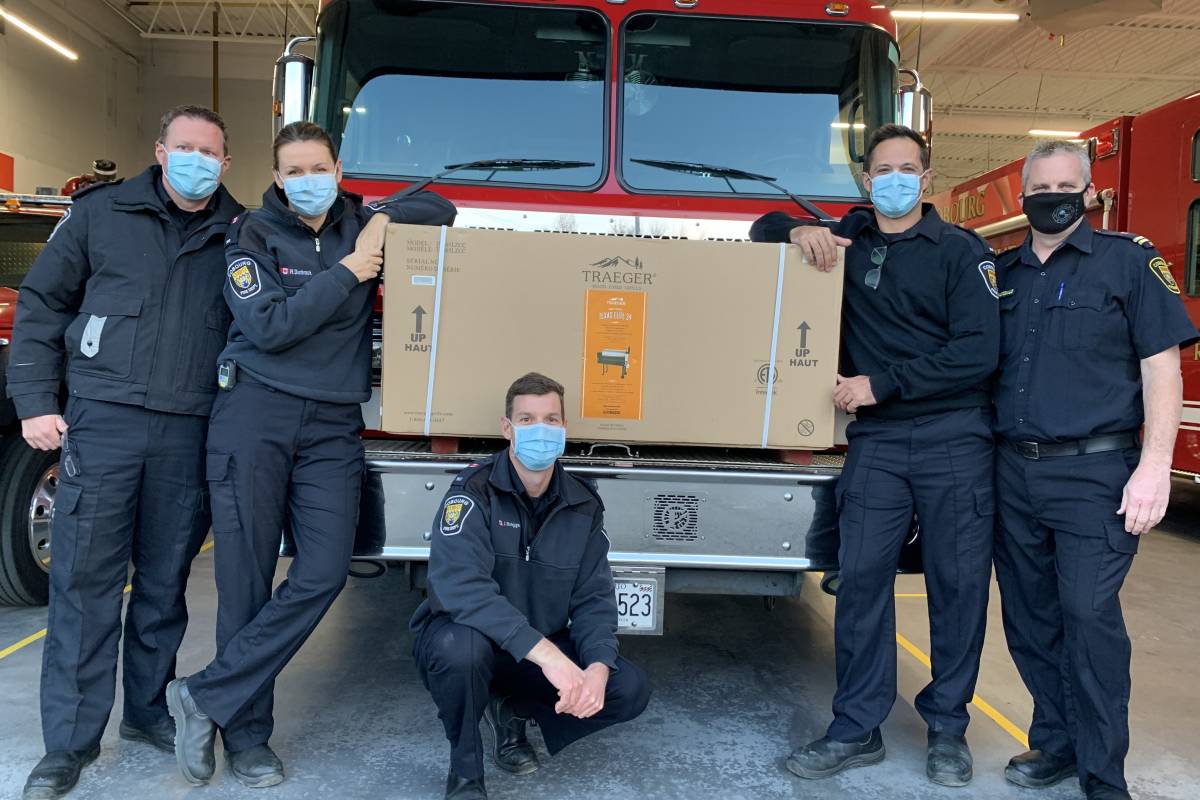 MEDIA RELEASE
For Immediate Release
November 10, 2020
NORTHUMBERLAND COUNTY – The strength of the relationship between first responders and our local hospital has been on full display throughout 2020 and now, as Cobourg Professional Firefighter Association Local 1732 steps up with a big donation to raise funds for Northumberland Hills Hospital (NHH), it's burning even brighter. The Cobourg Professional Firefighter Association has generously donated a Traeger Texas Elite 34 to NHH Foundation to advance fundraising efforts in support of priority medical equipment and technology at NHH.
The brand-new smoker was originally given to the Cobourg Professional Firefighter Association by Traeger, who donated these to firefighter associations across Ontario in late 2019.
"We immediately knew we wanted to use this donation in a way that would help our community on a larger scale," says Jeff Briggs, Cobourg Professional Firefighter Association Vice President. "We thought of the difference the hospital makes in the lives of so many and decided to reach out to our partners at NHH Foundation."
The smoker, valued at over $1000, is the first item to be announced as part of NHH Foundation's upcoming online auction. This auction is set to launch during the CARING. Close to Home Gala on November 28, with virtual Gala guests getting the first look at auction items. The online auction will launch to the public following the event and will remain open for five days for those interested to place their bids.
"The Silent Auction at our annual Gala has become a favourite element of guests in year's past," shares Rhonda Cunningham, NHH Foundation Executive Director. "Knowing the economic hardship the pandemic has caused for many local businesses and entrepreneurs, we did not want to organize an auction to the same extent this year, but with local businesses and partners reaching out to offer their support, we decided to put together an online auction. We are so grateful to the several businesses and partners like the Cobourg Professional Firefighters Association who stepped forward and I must say it is a true testament to both the spirit of our community and the importance of our hospital that generosity towards NHH is still top of mind for so many."
Funds raised through NHH Foundation's online auction as well as the CARING. Close to Home event will support renovations required to accommodate the replacement of two digital x-ray units in NHH's Diagnostic Imaging Department, a project totalling $300,000.
For more information on NHH Foundation or CARING. Close to Home, visit www.NHHFoundation.ca/Events.
---
View all