Gift of Gratitude Program Recognizes First Gold at NHH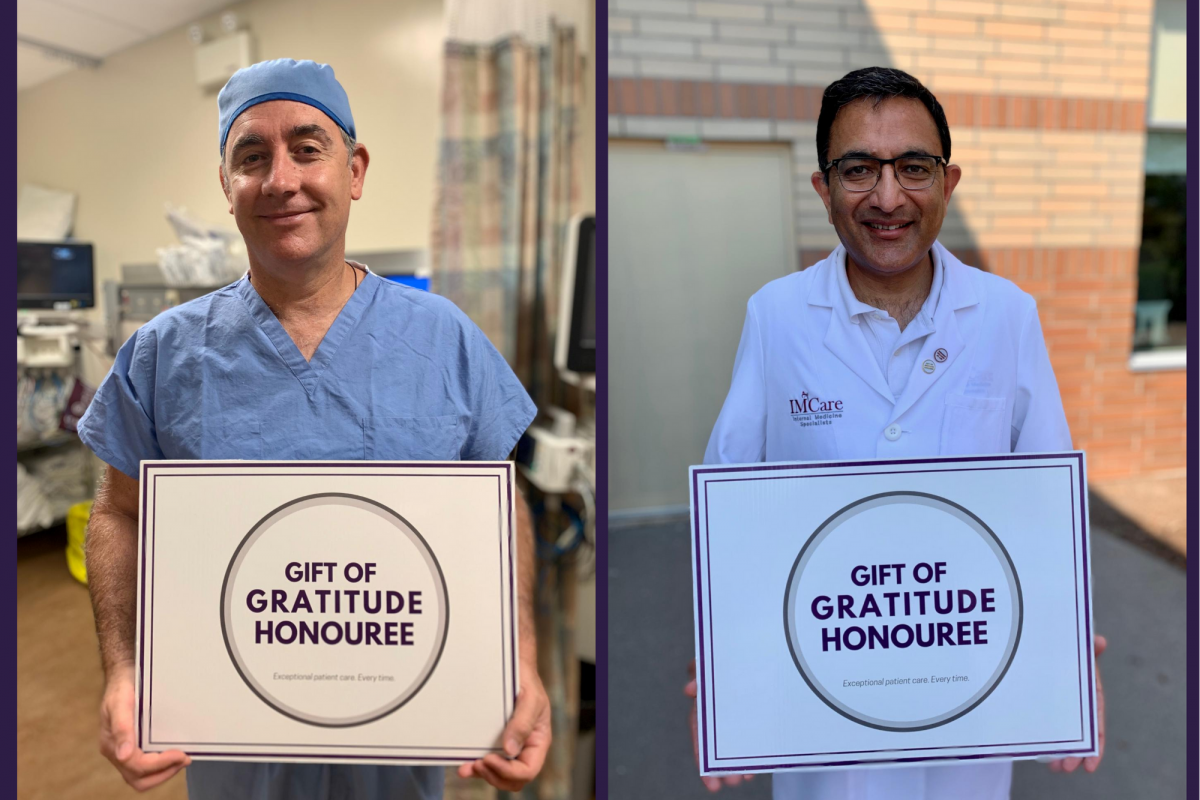 For Immediate Release
August 26, 2020
NORTHUMBERLAND COUNTY- Recent times have truly shone a light on the selfless efforts of healthcare workers around the world who care for our communities, but these workers have been making sacrifices and putting others first long before the COVID-19 pandemic. Recognizing the caring spirit within the team at Northumberland Hills Hospital (NHH), NHH Foundation launched a formal Gift of Gratitude program in 2019 to honour those who go above and beyond to make a positive difference in the lives of those receiving care or visiting NHH. This program has continued throughout the pandemic, with many talented staff and physicians being recognized, including Dr. Andrew Stratford, the program's first gold honouree.
The Gift of Gratitude program provides patients and families with a way to express their thanks for exceptional care at NHH. When someone makes a donation to honour a staff member or physician who made a positive difference during their visit, that honouree receives a personalized message from the donor as well as an exclusive Gift of Gratitude pin to wear as a physical reminder of this appreciation. Each time a member of the NHH team is honoured they receive a new honour pin: bronze for their first honour, silver for their second and gold for their third. Donors can also choose to recognize a team or unit within the hospital, who will then receive a Gift of Gratitude unit certificate to be hung in their department.
With Dr. Stratford's third recognition in July 2020, he became the first from the NHH team to receive a gold honour pin. Shortly after Dr. Stratford received gold, Dr. Mukesh Bhargava, Chief of Staff at NHH, also received his third recognition and gold honour pin. As of August 24, 2020, 67 bronze honourees, 9 silver, and 2 golds have been recognized.
"Winning Gold is an awesome feeling!" says Dr. Bhargava. "Dr. Andrew Stratford is no stranger to being recognized for his work and I congratulate him on being the first recipient of the gold pin for the Gift of Gratitude program."
In describing their interactions with Dr. Stratford that led to the decision to recognize him with this gold Gift of Gratitude, the anonymous donor shared, "When getting called in for emergency surgery [he] arrived with a positive, professional and confident approach and arrived at a successful outcome. We can't thank [him] enough."
Upon presentation of their pin, staff, physicians, and units are also photographed and many of these images can be viewed in a Gift of Gratitude photo album found on the Foundation's Facebook page. The amount of the donation made in their honour is not disclosed.
For more information on the Gift of Gratitude program, please visit www.nhhfoundation.ca/give/gift-of-gratitude.
---
View all