Largest Fundraising Campaign in History of NHH Recruits Outstanding Volunteers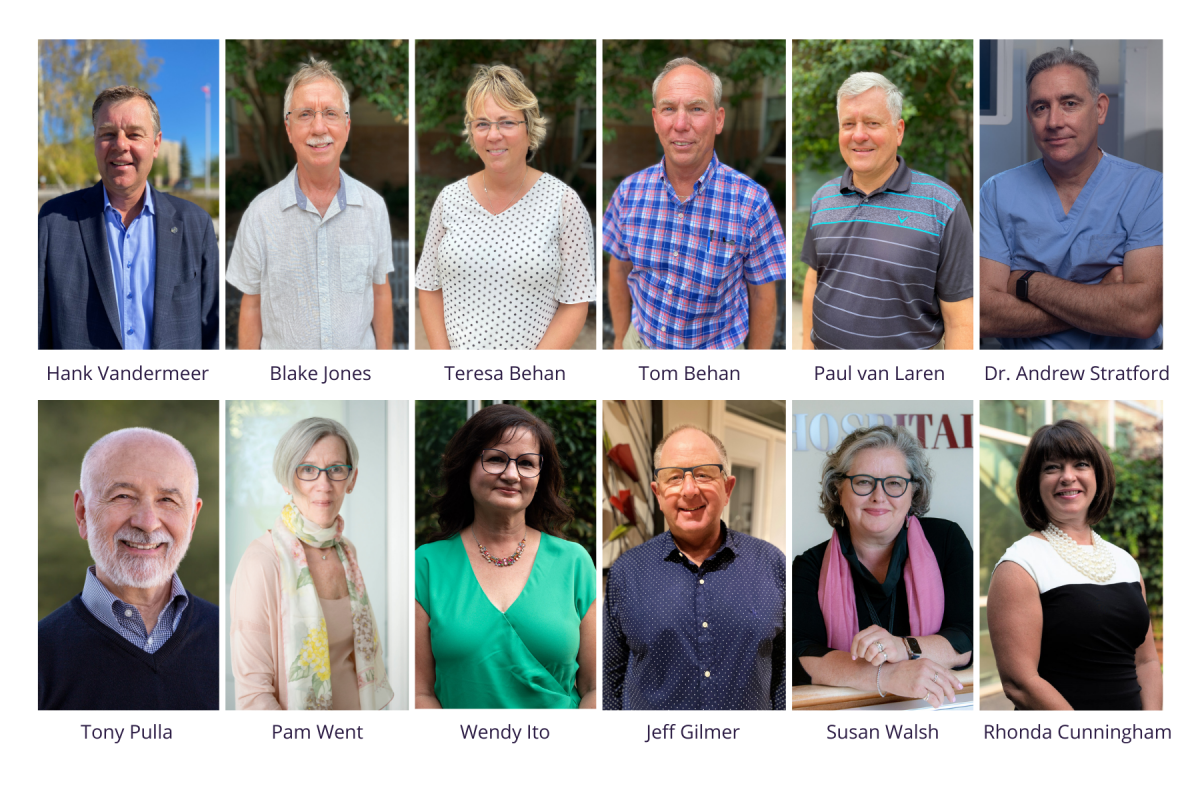 MEDIA RELEASE
For Immediate Release
September 28, 2021
NORTHUMBERLAND COUNTY – When Northumberland Hills Hospital (NHH) leadership signaled to NHH Foundation that a significant investment in medical equipment and technology would be required in the future, the team at the Foundation knew it would need to recruit outstanding community leaders to support success for what is set to be the largest fundraising campaign in not only NHH's history, but in the history of Northumberland County. Now, the Foundation is excited to announce it has done just that with a dedicated Campaign Cabinet established under the leadership of local businessman and Campaign Chair, Hank Vandermeer to support the upcoming Exceptional Community, Exceptional Care campaign.
"I am proud to be leading this upcoming campaign," shares Vandermeer. "My first priority after accepting the role of Chair was to recruit other leaders in our community who would be willing to help, and I am grateful for the Cabinet members who have agreed to join me."
In addition to Vandermeer, members of the Campaign Cabinet include: Blake Jones, Tom and Teresa Behan, Paul van Laren, Tony Pulla, Dr. Andrew Stratford, Wendy Ito, Jeff Gilmer, and Pam Went. The Cabinet will be supported by both Susan Walsh, President and CEO of NHH, and Rhonda Cunningham, Executive Director of NHH Foundation.
"Our Cabinet is dedicated to ensuring success for our hospital," shares Vandermeer. "Now that we have a strong team in place, it is time for us all to get down to work planning this campaign. This is not a small undertaking and given the significant funds needed to keep our hospital state-of-the-art, we are mobilizing now to ensure we have a strong platform in place before we officially launch. When the time comes, we will be looking to our community to support efforts and join us in making sure our exceptional community continues to have access to exceptional care."
In addition to the Foundation staff team, the Campaign Cabinet will be supported by other Committees including a Leadership Gifts Committee and a Communications Committee. The Communications Committee has already been struck and includes local marketing and communications experts, Joanne Marrison, Kate Ingram, Ian Everdell, and Lydia Jackson. The Communications Committee will have the support of both the hospital and Foundation, from Jennifer Gillard, NHH's Senior Director of Public Affairs and Strategic Partnerships and Jennifer Gilmer, NHH Foundation's Communications Specialist.
"With a strong leadership team in place, and many dedicated volunteers and donors, I am optimistic as we take the next step in our journey," shares Rhonda Cunningham, NHH Foundation Executive Director. "I look forward to working closely with our Cabinet to ensure our hospital remains strong and vibrant."
As the Foundation moves forward with campaign planning, there is the potential for the Cabinet to grow as needs shift and new opportunities are presented to raise imperative funds for NHH. The Northumberland County community can expect to hear more information on this exciting campaign and how they can get involved in the coming months and years.
To read profiles on Cabinet members, please visit www.nhhfoundation.ca/cabinet.
---
View all