New Digital Mammography Unit for the Clay & Elaine Elliott Women's Health Centre arrives at NHH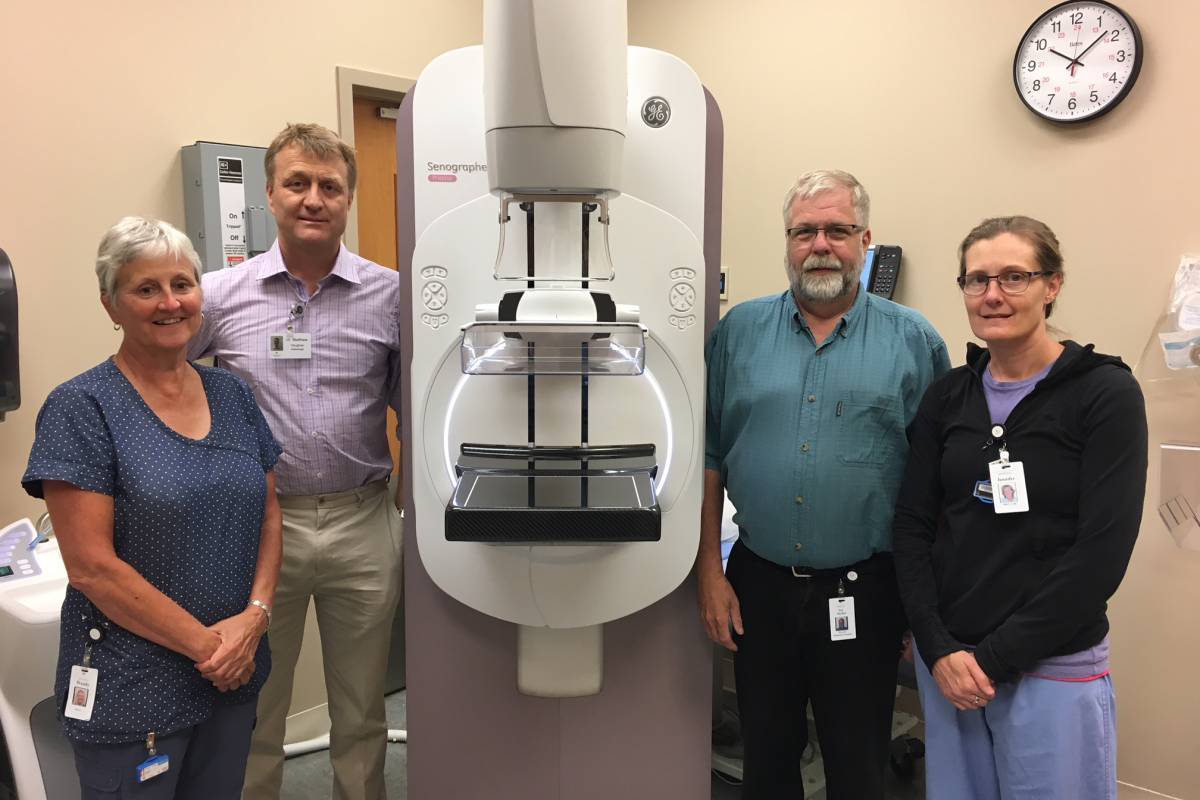 NORTHUMBERLAND COUNTY- The latest, most advanced technology for performing mammograms continues to be available at Northumberland Hills Hospital (NHH), thanks to continued support from generous community donations.
The new GE Healthcare Senographe Pristina mammography unit was delivered to NHH's Clay & Elaine Elliott Women's Health Centre in late June and is already in use for patient exams.
The digital mammography unit was funded by the NHH Foundation through the Equipped to Care Program. In 2015, the Foundation set a goal to raise a minimum of $12 million by 2020 through the Equipped to Care Program to support the Hospital's high priority capital equipment purchases in the Diagnostic Imaging Department.
"To date, we have raised 85% of our goal - $10,200,000 in leadership gifts and community support," says Tyler Hathway, Chair of the NHH Foundation's Board of Directors. "It's so rewarding to see donations immediately put into action and begin serving the patients who turn to our hospital for their care."
The NHH Foundation was able to support the purchase of this new unit with a capital equipment contribution of $475,000. Funding came from many different donors and events such as Northumberland's Biggest Coffee Morning in 2017, which raised over $50,000, and Betsy Miller's art exhibition and sale, which raised over $3,000. It truly is a community effort that has come to fruition.
At the Clay & Elaine Elliott Women's Health Centre, the main concern is to understand the distinct issues related to women's health. Designed with privacy in mind, the centre provides access to state-of-the-art diagnostic equipment. Among the services offered in the Women's Health Centre are bone density testing, ultrasound, needle biopsy and mammography. From April 1, 2017- March 31, 2018 over 6,100 mammograms were performed. NHH's mammography program is accredited by the Canadian Association of Radiologists (CAR). The CAR Accreditation is the gold standard for mammography.
"We are so grateful to the community for funding this new mammography unit and technology," says Wendy Scott, Senior Mammography Technologist. "Early detection and diagnosis of breast diseases in women is our top priority and this new unit will allow us to continue to provide diagnostic accuracy."
"It is this commitment to women's imaging that has generated so much interest from accomplished sub-specialty radiologists in this area," says Dr. Matthew Vaughan, Chief of Radiology.
---
View all