New Painting Received at Northumberland Hills Hospital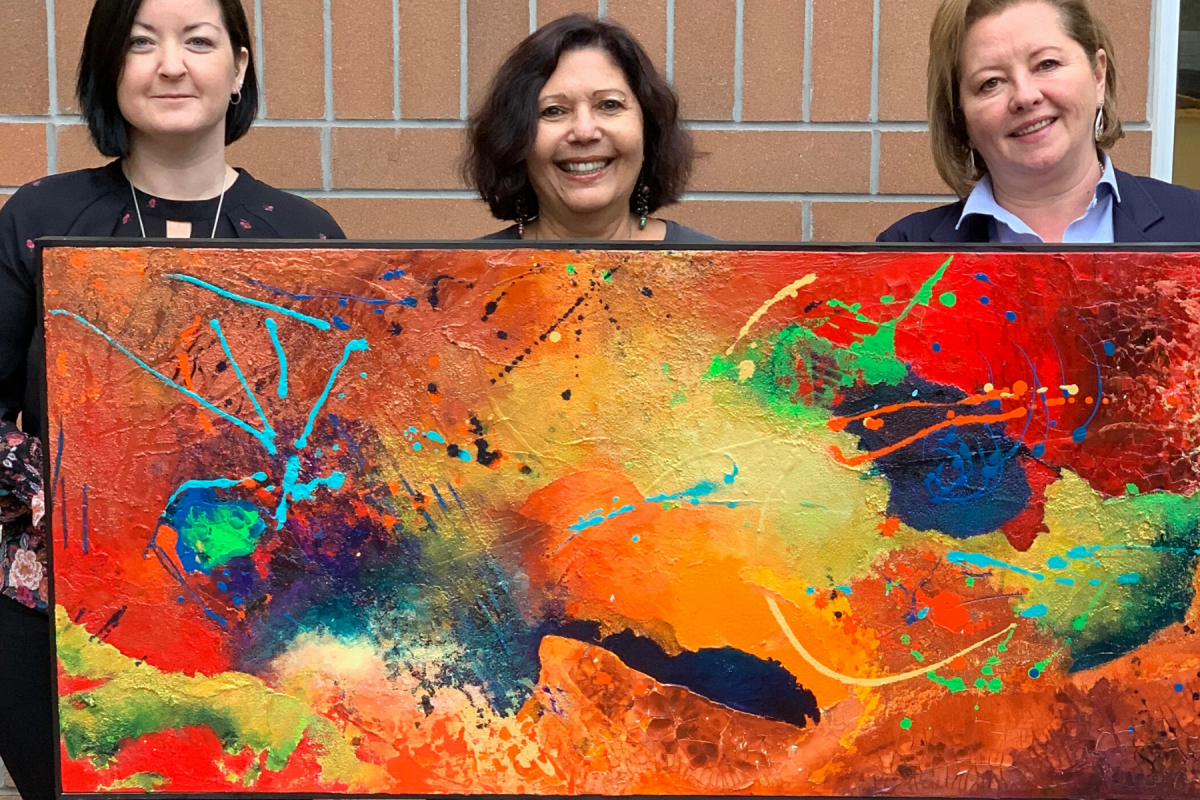 MEDIA RELEASE
For Immediate Release
Wednesday, December 18, 2019
NORTHUMBERLAND COUNTY- Northumberland Hills Hospital (NHH) has recently received a new painting as part of its permanent art collection. Generously donated by artist Frances Ferdinands, this 24" X 54" acrylic painting titled "Flyover" can now be seen hanging in The Main Street Bistro for visitors, staff, and volunteers to enjoy.
Sri Lankan-born, Ferdinands is a Canadian artist with a studio (Studio Vimy Fine Art) and home tucked in the hills of Northumberland County. For over three decades she has exhibited her work in both solo and group exhibitions locally, nationally, and internationally. Her paintings are held in private, corporate as well as museum collections including the Royal Ontario Museum. She is currently preparing for her first Solo Exhibition in London, England in March 2020.
Ferdinands and her husband moved to Northumberland County seven years ago, leaving behind the cityscape of downtown Toronto for something completely different – a country home surrounded by farms and rolling hills. Though most of her business is still conducted out of Toronto, this move has provided opportunities to be closer to nature and has allowed her to devote herself full time to her studio practice.
When asked what inspired her to donate "Flyover" to NHH, Ferdinands remembers the care she received from hospital staff during her one-time stay as a patient, when she required an emergency appendectomy after arriving at NHH's Emergency Department with abdominal pain. Dr. Al-Ali, General Surgeon, was on-call at the time and responded quickly. Both Dr. Al-Ali and surgical staff were brought in to perform her emergency operation, which was conducted in Ferdinands' words, "in the nick of time."
"Dr. Al-Ali's bedside manner was upbeat and jovial," recalls Ferdinands. "The team was extremely professional and speedy. I think it is out of this positive experience and noticing a Landon McKenzie painting in the upper hallways that got me thinking of a possible donation."
"Flyover" is part of Ferdinands' exhibition catalogue Convergence, which has been described as an idiosyncratic look at identity, invoking memories of the artist's homeland in Sri Lanka as much as her love for her life in Canada. This work in particular was created soon after moving to Northumberland County and suggests an aerial perspective of flying over the lakes and terrain of this region. The bright colours and impressive composition of this abstract piece are now on prominent display for all to see at NHH. You may contact the artist through her website www.francesferdinands.com.
---
View all