Northumberland Father Daughter Ball Raises $24,000 for Maternal Child Care Program at NHH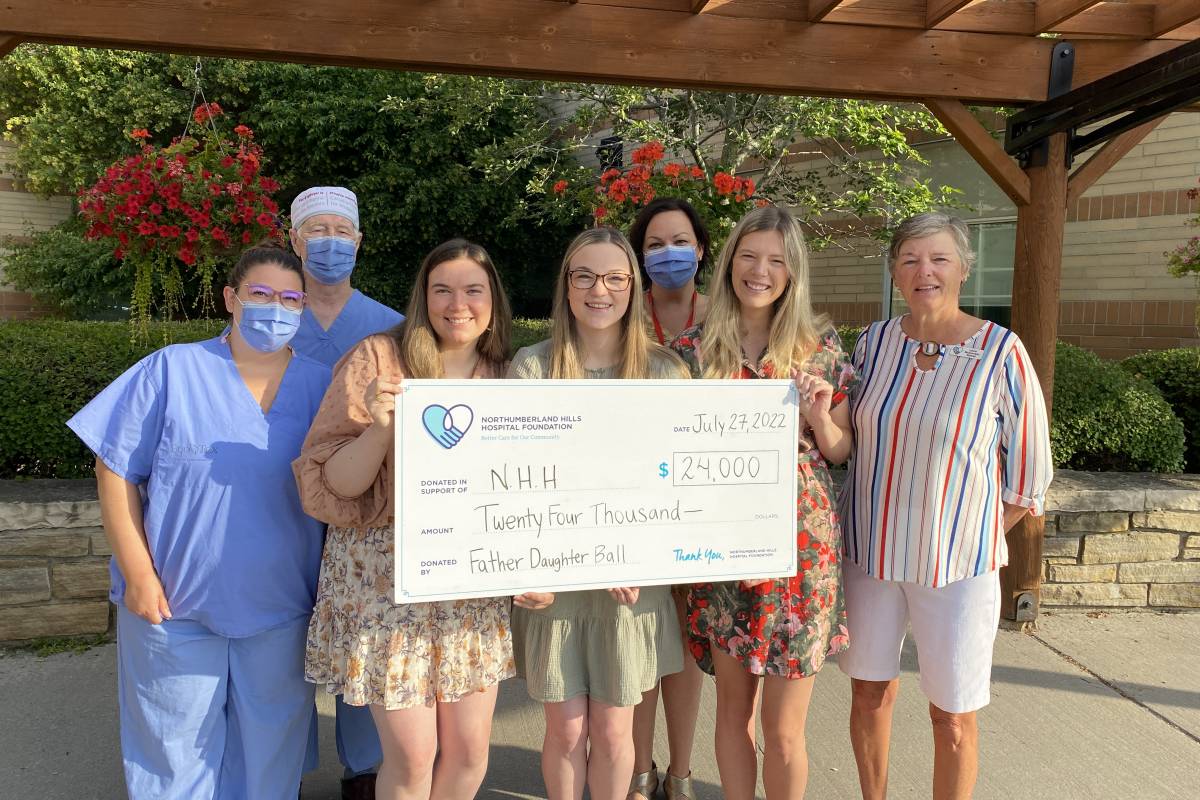 MEDIA RELEASE
FOR IMMEDIATE RELEASE
August 3, 2022
NORTHUMBERLAND COUNTY – Organizers and volunteers of the Northumberland Father Daughter Butterfly Ball 2022 raised an incredible $24,000 to support the Maternal Child Care program at Northumberland Hills Hospital (NHH).
"We were thrilled and honoured to be handed the reins of this community event and to bring it back with our own touch!" shared organizers, Katie Traugott, Jenna Traugott, and Reese Quantrill. "From day one to the day of the Ball, we were blown away by the generosity of our community – Our sponsors, Cameco, LiUNA Local 183, Tony Pulla, Trenholm Parker, and Spoolon made the evening possible. Along with so many local businesses who shared their expertise in any way they could to make it a memorable and successful event. And we owe a huge thank you to our community who sold out the event in record time and came ready to party! We can't wait for NFDBall 2023!"
The Butterfly Ball took place Friday, July 7 at the Best Western Plus Cobourg Inn & Convention Centre, with daughters ages 4-10 attending along with their fathers and father figures. A formal affair, many of the attendees embraced the theme with butterfly hair clips, dresses, and even wings.
The Father Daughter Ball has been a third party planned initiative in support of NHH Foundation since 2015 and this was the first year since 2019 the event was able to be held in person once again. This was also the first year a new group of volunteers took over the planning and hosting.
"Reese, Katie, and Jenna took the Father Daughter Ball on with gusto!" shares Rhonda Cunningham, Chief Executive Officer of NHH Foundation. "They pulled together a special evening for many young families to create fun memories, while also raising critical funds to support NHH's Maternal Child Care program. We want to thank them for continuing the proud tradition created by past event organizers with this year's Butterfly Ball."
Proceeds raised from the evening through ticket sales, a silent auction, raffle, and other initiatives help directly fund the purchase of medical equipment at NHH. In previous years, the Father Daughter Ball has funded items including birthing beds, a fetal monitor, and a neonatal warmer.
Organizers shared they have already started planning the 2023 event and look forward to announcing the theme in the winter of 2022.
More information about the Northumberland Father Daughter Ball can be found online at www.northumberlandfatherdaughterball.weebly.com and additional information on how to support NHH can be found at www.NHHFoundation.ca.
---
View all