Northumberland Father Daughter Ball Raises $24,500 for Maternal Child Care Program at NHH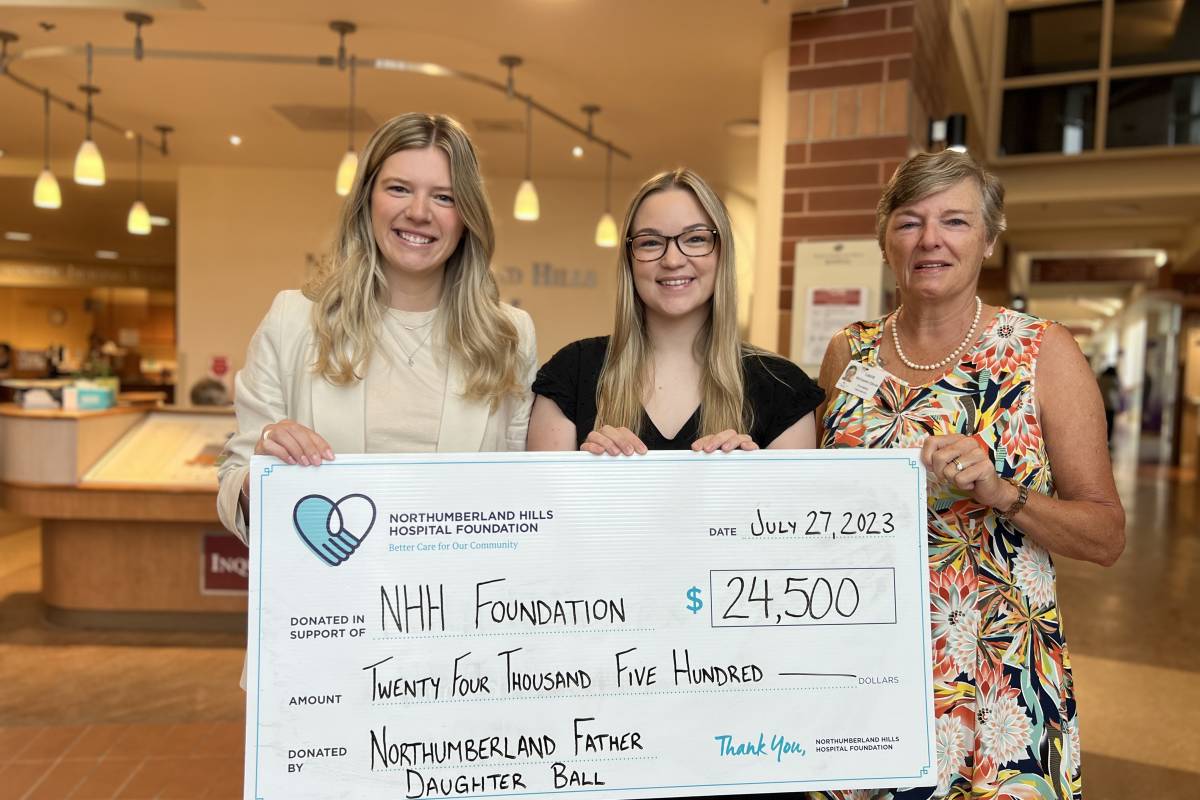 MEDIA RELEASE
FOR IMMEDIATE RELEASE
July 31, 2023
NORTHUMBERLAND COUNTY – Organizers and volunteers of the Northumberland Father Daughter Disco Ball 2023 raised an incredible $24,500 to support the Maternal Child Care program at Northumberland Hills Hospital (NHH).
"With immense joy and gratitude, we were entrusted with the responsibility of organizing this community event and infusing it with our personal touch again this year," shared organizers, Katie Traugott, Jenna Traugott, and Reese Prescott. "From the beginning planning stages, we were overwhelmed by the generosity of our community. This event would not have been possible without our sponsors – Cameco, LiUNA Local 183, Family Dental Centre and Spoolon Manufacturing Limited – whose support was invaluable. Additionally, numerous local businesses generously provided donations, making the event truly memorable and successful. Finally, we extend a massive thank you to our community for making this a sold-out event in less than 20 hours and joining us in full spirits!"
The Disco Ball took place Friday, July 7 at the Best Western Plus Cobourg Inn & Convention Centre, with daughters ages 4-10 attending along with their fathers and father figures. The disco-theme was clearly embraced by the attendees who went to great effort, donning sequins, bell bottoms and special matching father-daughter outfits.
The Northumberland Father Daughter Ball has been a third party planned initiative in support of NHH Foundation since 2015. This was the second year Traugott, Traugott, and Prescott took the lead in planning and hosting.
"Reese, Katie, and Jenna organized the Northumberland Father Daughter Ball with great enthusiasm once again this year." shares Laura McCracken Ebbrell, Chair of Signature & Third Party Events, NHH Foundation. "This volunteer team's drive to craft an extraordinary evening for 238 guests and raise important funds to support NHH's Maternal Child Care program is truly impressive. We extend our heartfelt gratitude to them and to all those who supported our hospital through this year's Disco Ball."
Proceeds raised from the evening through ticket sales, sponsorship, a silent auction, raffle, and other initiatives help directly fund the purchase of medical equipment at NHH. In previous years, the Northumberland Father Daughter Ball has funded items including birthing beds, a fetal monitor, and a neonatal warmer.
Organizers shared they have already started planning the 2024 event and look forward to announcing the theme in the winter of 2023. Tickets for next year's event will go on sale November 2023.
More information about the Northumberland Father Daughter Ball can be found online at www.northumberlandfatherdaughterball.weebly.com and additional information on how to support NHH can be found at www.NHHFoundation.ca.
---
View all