Rotary Club of Northumberland Sunrise Completes Sweat Equity Project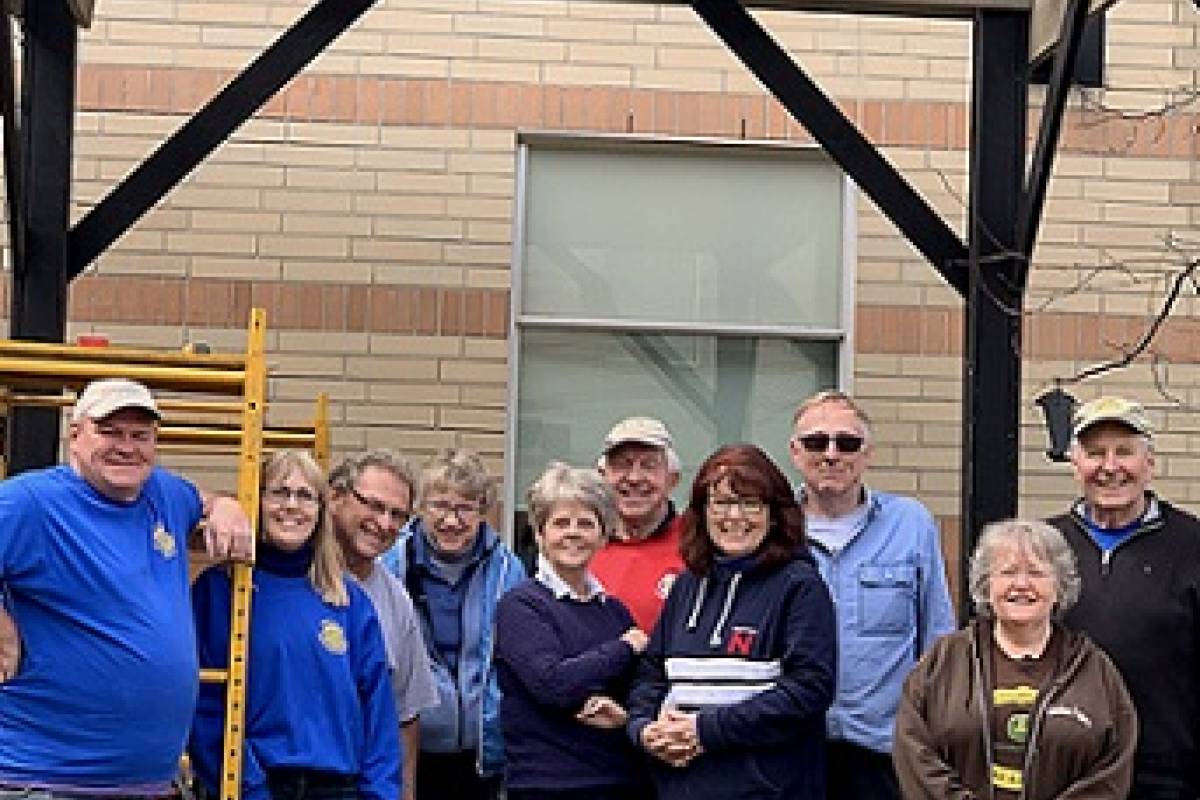 NORTHUMBERLAND COUNTY- Members of the Rotary Club of Northumberland Sunrise recently helped build a pergola within the Palliative Care Courtyard at Northumberland Hills Hospital (NHH).
"One of this year's goals was to put more sweat equity back into the community. In keeping with our close ties to Northumberland Hills Hospital, we reached out to ask what projects our members could become involved with," shares Rotary President, David Houston.
Championed by Rotarian Kevin McAlpine, the project was completed over two weekends.
"Northumberland Sunrise Rotary is moving to a new model where we will be doing more work in the community. From a chance conversation to the finished project, all of our members have been engaged in this build. We hope it brings the patients and their families a chance to enjoy the outdoor area," states McAlpine.
The funds to build the pergola were donated by Jack Jones in memory of his wife, Jane. Jane had been a patient in the Palliative Care Unit prior to her death last year.
A thank you is extended to both Home Depot and Colour Concepts in Port Hope for their in-kind donations.
"This is the second project Sunrise Rotarians have completed at NHH over the past five years. In 2014, they helped create a garden at the front entrance to the Hospital," shares Rhonda Cunningham, Executive Director of the NHH Foundation. "We feel very fortunate to enjoy this unique partnership with the Club, and we look forward to future projects together."
"There is a great therapeutic value in simply being outside, in the fresh air, and we're so fortunate at NHH to have a number of spaces in which patients, their caregivers and members of our team can enjoy the outdoors," said Linda Davis, NHH President and CEO. "The new Palliative Care Courtyard pergola is a wonderful addition to NHH's Palliative Care garden. On behalf of NHH's Palliative Care team, thank you Jack Jones and Sunrise Rotary for this wonderful gift. The local need for palliative care continues to rise, and this new pergola will bring comfort to the palliative patients and their families we are privileged to serve."
-30-

For more information, please contact:
Rhonda Cunningham, Executive Director, NHH Foundation, 905-377-7767 or rcunningham@nhh.ca
Jennifer Gillard, Senior Director, Public Affairs and Strategic Partnerships, 905-377-7757 or jgillard@nhh.ca
About the Northumberland Hills Hospital Foundation – The mission of the Northumberland Hills Hospital Foundation is to inspire generous giving to enable exceptional patient care at Northumberland Hills Hospital. With a dedicated team of enthusiastic volunteers and staff, the NHH Foundation is passionately committed to improving health care and the quality of life for people living in west Northumberland. Since 2002, the NHH Foundation has raised over $51 million to build and equip Northumberland Hills Hospital. This support comes from generous community support through a variety of programs including major gifts, planned giving, signature and third party events, direct mail and commemorative giving. For more information, visit: www.nhhfoundation.ca or like us on Facebook.
About Northumberland Hills Hospital – Located approximately 100 kilometres east of Toronto, NHH delivers a broad range of acute, post-acute, outpatient and diagnostic services. Acute services include emergency and intensive care, medical/surgical care, obstetrical care and palliative care. Post-acute specialty services (PASS) include restorative care and rehabilitation. Mental health care, chemotherapy, dialysis and 16 other ambulatory care clinics are offered on an outpatient basis through partnerships with regional centres and nearby specialists. NHH offers a full range of diagnostic services, including magnetic resonance imaging (MRI), computed tomography (CT) and mammography. The hospital serves the catchment area of west Northumberland County. A mixed urban and rural population of approximately 60,000 residents, west Northumberland comprises the Town of Cobourg, the Municipality of Port Hope and the townships of Hamilton, Cramahe and Alnwick/Haldimand. NHH employs approximately 600 people and relies on the additional support provided by physicians and volunteers. NHH is an active member of the Central East Local Health Integration Network. For more information, please visit www.nhh.ca or follow us on Twitter @NorHillsHosp.
---
View all