Wine & Ale Event Raises $22,000 for Northumberland Hills Hospital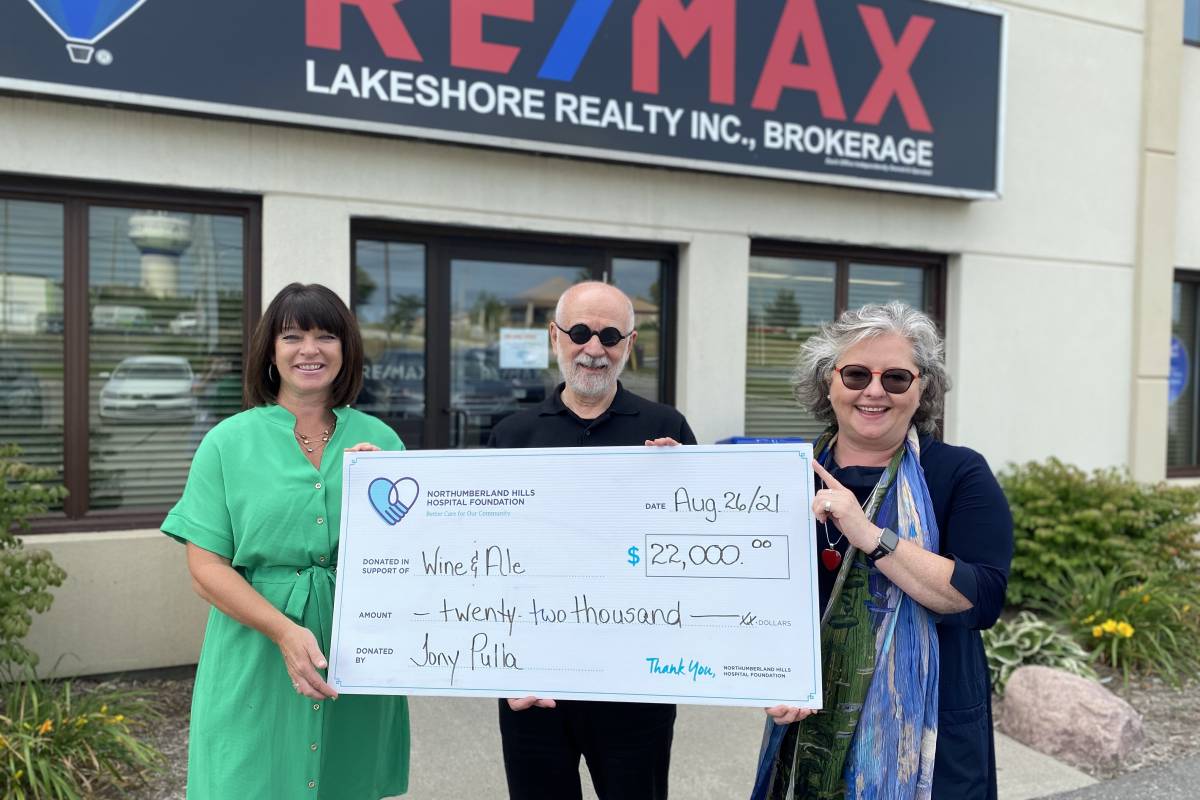 MEDIA RELEASE
For Immediate Release
Thursday, August 26, 2021
NORTHUMBERLAND COUNTY - As one of Northumberland County's most successful realtors, Tony Pulla of RE/MAX Lakeshore Realty Inc. knows first-hand how important a hospital is to all residents, which is just one of the reasons he makes giving to Northumberland Hills Hospital (NHH) Foundation a priority. This year, he continued his long history of supporting the Foundation's annual Wine & Ale event as presenting sponsor, and in fact, increased his sponsorship to ensure this year's version was the most financially successful to date with a total of $22,000 raised.
"Tony is a shining example of what our community is all about," shares Rhonda Cunningham, Executive Director of NHH Foundation. "Through times of uncertainty, as we've had these past two years, Tony's determination to raise funds to ensure high-quality patient care continues to be available in west Northumberland is something we can be certain to count on and we are so grateful."
NHH Foundation's role is to raise funds to support the purchase of medical equipment and capital needs at NHH, and fundraising events are one facet of how this task is achieved. One of the Foundation's signature fundraising events, Wine & Ale is typically held in person in Cobourg's Victoria Park and has been presented by Tony Pulla since 2014. In 2020, with COVID-19 restrictions, the Foundation team re-imagined the event to offer an at home version and it was this at home version that returned for the 2021 year.
"I appreciate how difficult it can be for the dedicated volunteers to raise money and reach their goals during COVID-19 with all the restrictions in place," shares Pulla. "I also appreciate how important a hospital is to its community because I hear this all the time from clients. If it's important to them, then I make it a priority for me. I'm just glad I'm able to help out in this way."
"We feel lucky to have so many supportive partners and friends who contributed to this event's success," says Cunningham. "In addition to Tony's support, we received generous donations from some of his clients, both Henry of Pelham Family Estate Winery and William Street Beer Co. joined us as beverage partners once again for 2021, the Lions Club of Cobourg provided us with a venue for order pick-up, and we saw both new and past event participants support us with orders this year."
Participants in this at home version were invited to order a mixed case of wine from Henry of Pelham Family Estate Winery and/or a case of William Street Beer Co., with portions of all sales directed towards NHH Foundation. Once orders were placed, participants were invited for curbside pickup of their cases on a designated day at the Cobourg Lions Community Centre where volunteers loaded orders into their vehicles as they pulled up.
For more information on how you can support NHH Foundation, please visit www.nhhfoundation.ca.
---
View all