New Learning Lab Unveiled at NHH with Support of BMO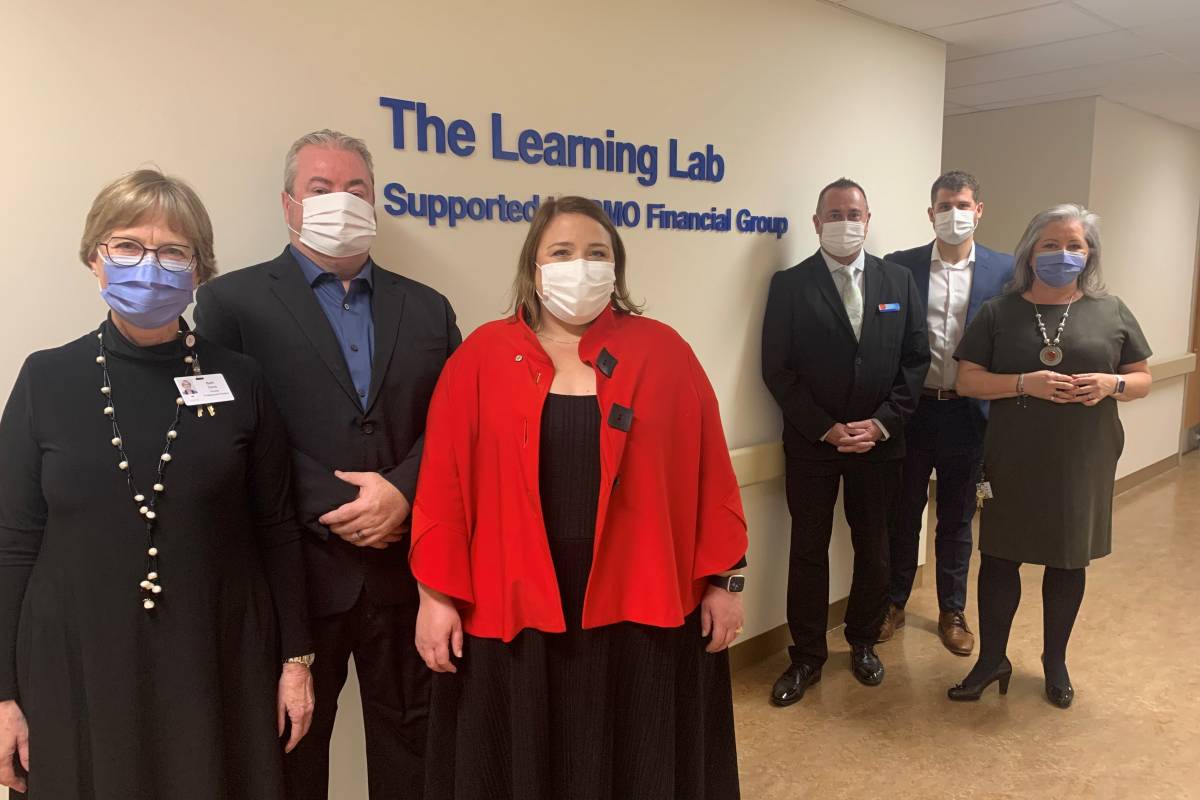 MEDIA RELEASE
For Immediate Release
January 9, 2023
NORTHUMBERLAND COUNTY – A generous gift of $200,000 from BMO Financial Group to Northumberland Hills Hospital (NHH) Foundation has supported the creation of a 'learning lab' within NHH.
The Learning Lab, located on the second floor of the hospital, offers a consolidated place for the clinical education team to enhance the training and education of clinical staff. The space will provide centralized access to clinical educators for new and existing staff, and room for collaboration, course development, and planning sessions for workshops and orientation programs. Plans are in place for the Learning Lab to also include a simulation lab to further allow for hands-on skills training and offer other learning activities.
"Our vision is to provide a welcoming space for staff to practice clinical skills and scenarios with support in a safe environment," says Beth Davis, NHH Director of Professional Practice. "We are deeply grateful to BMO and the Foundation for supporting professional development for our clinicians who provide hands-on patient care."
Recognizing BMO's ongoing commitment to NHH, a naming installation was unveiled earlier this year, commemorating the space as 'The Learning Lab – Supported by BMO.'
This type of project aligns well with the values and giving priorities of BMO, which as an organization, embraces collaboration, learning, and innovation. The bank has long been a supporter of NHH Foundation and this leadership level gift in support of the new educational space is their largest commitment to date.
"NHH Foundation has been a proud client of BMO for 30 years," shares Rhonda Cunningham, NHH Foundation Chief Executive Officer. "To enjoy this level of commitment from them speaks volumes to their interest and belief in the important work our Foundation undertakes to help NHH provide great care."
"As part of BMO's 30-year relationship with Northumberland Hills Hospital we are thrilled to play a critical role in the development and progress of their clinical education," said Melanie Cook, Vice President, BMO Commercial Bank, Canada. "This donation exemplifies our Purpose to Boldly Grow the Good in business and life by creating a space for medical professionals to enhance their skills to continue to learn and exceed expectations."
BMO's gift will ultimately support NHH Foundation's Exceptional Community, Exceptional Care campaign. Set to be the largest campaign in the hospital's history, its success will support world-class care and medical technology in Northumberland County. The creation and implementation of The Learning Lab – Supported by BMO aligns with the overall campaign goal of helping the hospital prepare for the needs ahead brought on by an aging and growing community, as it will present new opportunities for NHH's collective knowledge and skillset to grow and advance to meet evolving demands.
To learn more about ways you can support NHH Foundation, visit www.NHHFoundation.ca.
---
View all